It's time for Blue Jays to test pitching talent
ust because Roberto Osuna had one good year as the Blue Jays' closer doesn't mean he's the last, best option for the Jays' bullpen. In fact, keeping him in that position doesn't even make him the best value for the Blue Jays.
 
All 2015 proved for Osuna is that he's talented enough to handle himself in high-leverage, late-game innings.
 
If you're the Blue Jays, this is great information to know. There is certainly a market for high-leverage, late-inning specialists. However, there is a much bigger market for middle-of-the rotation-starters, which is what Osuna was originally meant to be. In fact, Osuna's tremendous success might be his biggest enemy. He's talented enough to be the closer, that much is clear, but is he too talented?
 
In his current role, Osuna is young, promising, and underutilized. His early success is amazing, but it's not grounds to scrap his original development to be a starter — a plan what will net the Blue Jays a vastly superior return on investment should Osuna have similar success in the rotation. Think about it: Wouldn't you trade a star ace for a star closer? I would. Every. Single. Time.
 
That's why, if I'm Blue Jays management, I'm not going to give in to Osuna's preference to be in the pen, or his reluctance to start. He's not done enough to dictate terms to this Blue Jays club, and he's too damn good to not have his limits tested. 
 
Now that the Blue Jays have acquired a proven replacement for Osuna in Drew Storen, it makes sense that they would try to stretch out Osuna. The Jays, and, frankly, Osuna, need to know just how dominant he can be at the big-league level — especially given that there are no clear dominant forces in the Jay's rotation outside of Marcus Stroman, Marco Estrada, and potentially, Aaron Sanchez.
 
All that said, there are grounds to keep Osuna in the bullpen. Besides the obvious success, his current pitch arsenal — or lack thereof — will yield some rough outings out of the rotation; the kind that make brass and fans second guess.
 
Osuna simply doesn't have the pitch selection to consistently go deep into games as a starter. At least not yet. Osuna's fastball/changeup combination serves him well in short stints, and his slider is a good, one-location out pitch. But while this works for an inning or two, it's a recipe for regular four- or five-inning outings as a starter.
 
You could argue that one only needs to look across the Jays bench to Estrada to see an example of what can be done with a fastball and changeup, but Estrada's change is one of the best in baseball right now, and his curve is a pitcher's finesse dream that can be thrown to any location in any count. Osuna lacks this versatility.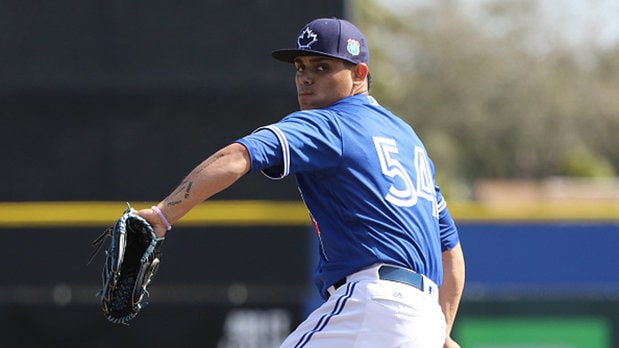 Hayhurst: Osuna making mistake not wanting to be starter
TSN Radio 1050 baseball analyst Dirk Hayhurst joins Naylor & Landsberg to explain why Roberto Osuna is making a mistake by saying he doesn't want to be a starter, and also weighs in on Toronto's pitching staff.
But a pitcher can learn versatility. It's just a matter of time. The question is, will Osuna make the grade fast enough in the time the Jays allot to this Osuna-turns-starter experiment?
 
Pitchers can develop their secondary pitches into primary weapons, and I'm confident Osuna can do this. Let Osuna and Russell Martin work together as battery mates for a dozen turns in the rotation and I'm sure all of his stuff will get better.
 
If it does, you've got yourself a cheap, effective starter under team control for the next few years. And if Osuna falters as a starter? Well, that's easy. You know the guy can close. So, when Storen runs his course with the Jays, you simply give Osuna his closer role back.
 
As for Osuna's pen mate Sanchez; that's a no-brainer. Simply put, Aaron Sanchez was meant to be a starter in the Jays' rotation.
 
David Price and I have had our differences in the past, but, one thing we can agree on his that Sanchez will be the Blue Jays X-factor this year. His power arm, slippery fastball, and wipeout off-speed could be Halladay-esque in time, and Martin is an excellent pitching professor to work with.
 
Plus, unlike Osuna, Sanchez wants to be in the starting rotation. He came into camp sporting 15 extra pounds of muscle. He knows he'll need that mass to sustain an increased work load at very high level. Beyond the eye test, however, Sanchez has been developing his secondary arsenal.
 
Do you know why so many pitchers skyrocket to the big leagues, struggle, and then end up in bullpen roles? It's because they have a blistering heater and one other great pitch that they can only throw to one location. In limited samples, those two things work out well, which makes youngsters great candidates for bullpen roles, so long as they can take the pressure found within. But in the rotation, two pitches are not enough unless they are league best.
 
Sanchez found this out the hard way. He needed more experience handling pressure and a more versatile arsenal of pitchers. He's had time to work on both now, and I think this is his year.
 
Moreover, this is a great camp to be in if you want to be a Blue Jays starter. There is lots of competition for a backend rotation spot with no clear-cut favourite. It may be Sanchez's spot to lose, but it sure doesn't feel that way. This state of constantly having to prove yourself is contrary to how Sanchez entered the rotation last season when it was his spot to lose — and lose it he did.
 
The Jays have a healthy competitive environment, and a powerful offence to cover over growing pains. If they're going to test their talent, now is the time to do it.
We can't do anything about it now," said Carey outside the locker-room immediately after the loss. "That game was ours to lose and I did that and it's my fault. I'll hopefully not make another stupid mistake like that."